Wine makes the perfect gift but sometimes we need to get something more than just wine for that special someone. So whether you're buying for your friend, your mom, or your dog, there are many gifts available in the tasting rooms for the holidays.
Gifts to make an impression:
A gift basket is a sure-fire way to make an impression. Perfect for family, your boss, or clients, a gift basket can be custom made or picked up already packaged. Summerland Winery offers a variety of gift baskets to choose from on their website.
Gifts for the Green (one gift at a time):
Packaging for gifts can really add up and lead to a lot of waste. What better way to eliminate waste than purchasing a gift basket or wine gift pack that is in a resuable container? Riverbench Winery sells 2-packs of wine in reusable shopping bags. Cottonwood Canyon, Consilience and Kenneth Volk (just to name a few) sell wine in engraved wooden boxes. These boxes make an excellent display item for wine lovers and act as a storage container for your wine cellar.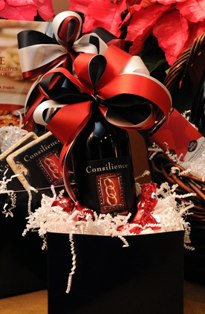 Gifts for a Man's Best Friend:
Many wineries are dog friendly and allow dogs into the tasting rooms while you shop. Better yet, treat your dog to a gourmet wine-shaped dog biscuit as seen below from Riverbench Winery. While you're there, pick up a squeaky toy that could almost be mistaken for a half bottle of wine ($13.25).
Gifts for Foodies:
Tasting rooms such as Costa de Oro and Cambria carry food products that are made with their wine. Everything from chocolate wine sauce to wine brittle to salad dressing can be found in tasting rooms.
Riverbench also has many foodie-friendly gifts:
-Stylish Vintage Aprons by Jessie Steele ($32), matching pot mitt ($6)
-Olive Oil Collection: decorative wine country olive oil container + a bottle of local garlic infused olive oil ($43)
-Black Blind Tasting Riedel Glasses, (set of 2 $44)
-Christmas Dish Set: 1 patter & 2 serving bowls ($80)
Gifts to make you laugh:
Show off your sense of humor with witty phrases on napkins like this:
or pickup a few funny wine stoppers to go with a bottle of wine:
Both gifts are available at Costa de Oro Winery.
Gifts for the Young:
Costa de Oro Winery sells a book called What a Grape Can Be that is perfect for the future winemaker or as a souvenir from your trip to the Santa Maria Valley Wine Country.
For those who need a last minute gift for the kids, stop by Tres Hermanas on the Foxen Canyon Wine Trail and choose from a number of kids' gifts.
Happy Shopping!